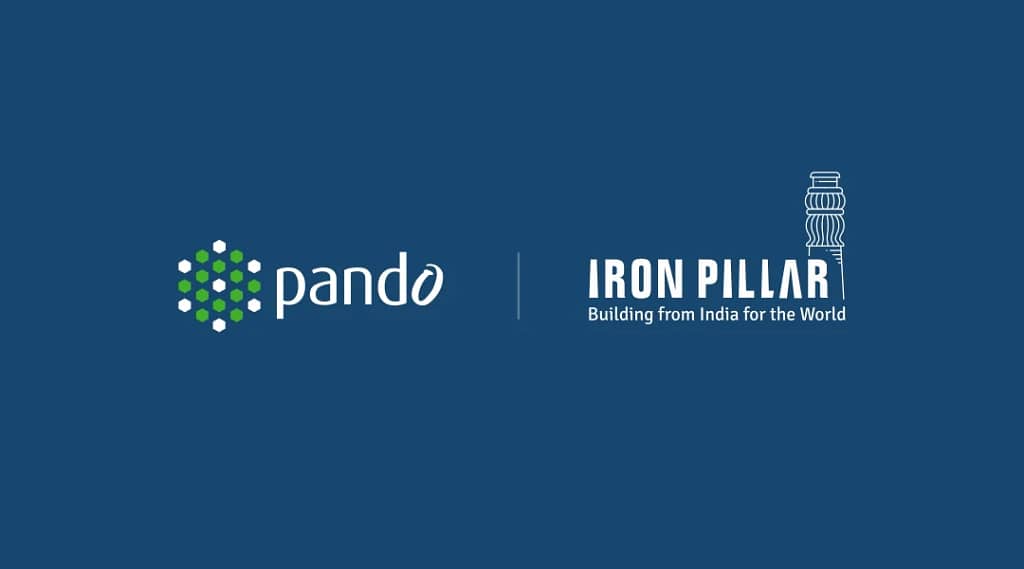 Palo Alto/Bangalore, May 3, 2023: Iron Pillar, a venture growth investor backing enterprise and consumer tech companies that are building from India for the world, announced its $12M Series B investment in Pando, a leader in supply chain and logistics SaaS, based in San Jose, with product development in Chennai. Iron Pillar led the company's $30M series B round. Iron Pillar is also an investor in other well-known SaaS software companies, including Uniphore, CoreStack, Ushur, Servify and Jiffy.ai.
Iron Pillar was joined by Uncorrelated Ventures, prominent American CEOs and angel investors as well as existing investors Nexus Venture Partners, Chiratae Ventures and Next47. Mohanjit Jolly, Partner at Iron Pillar, has joined the Board of Pando in conjunction with this investment. Pando's founders and existing investors decided to partner with Iron Pillar primarily to leverage the firm's global footprint, hands-on approach to helping entrepreneurs, as well as an extensive network of partners and customers, especially in the US and the Middle East.
Jolly believes that Pando will be a global leader in the category. "Verticals such as logistics that are unsexy, but very large, are ready for technology-led disruption by a company like Pando. At Iron Pillar, we love backing incredible teams that think big globally, have a truly differentiated offering, laser-focused execution and early proof points with delighted marquee customers. Pando's growth with multiple Fortune 500 companies is a testimony to the quality of the product and the management team. It's the vision of building a truly generational company that got us excited to partner with Abhijeet and Nitin at Pando."
In the last few years, driven by the pandemic, climate change, geo-political tensions and other factors, supply chain disruptions have become the norm, creating significant business challenges and hindering consumers' access to quality products. According to a recent Deloitte survey, over 70% of manufacturing executives reported that their companies have been impacted by supply chain issues in the past year, with 90% of those companies experiencing increased costs and declining productivity. As a result, global enterprises are investing heavily to make supply chains more resilient, agile and efficient. With the global logistics SaaS tech market estimated to grow to $25 billion by 2025, Pando is well-positioned to benefit from the broader tailwinds.
Pando's unique Fulfillment Cloud is a 'single pane of glass' to streamline the end-to-end order-to-fulfillment process of manufacturers, distributors, retailers, and 3PLs (third party logistics providers). The company's patented AI-powered, no-code platform for collaborative fulfilment has proven itself globally, improving service levels, and reducing carbon footprint, and costs for several Fortune 500 enterprises such as Nestle, Nivea, Johnson & Johnson, Danaher, Accuride, Perfetti Van Melle and BP Castrol.
"With supply chain disruptions becoming the norm, enterprises no longer can rely on legacy and siloed logistics tools to make their products accessible, affordable and sustainable. Pando's platform-first approach helps brands, suppliers, distributors, and retailers collaborate with agility to fulfill their orders," said Nitin Jayakrishnan, Pando's CEO.
"We found a great partner in Mohanjit and Iron Pillar – solid reputation, cross-border presence, and deep insight into our space," added Jayakrishnan.
Pando's CTO, Abhijeet Manohar, said, "Whether we take HRMS, CRM, ITSM or SCM – ultimately, enterprise processes are data problems. Enterprises are struggling to piece together a comprehensive view of their supply chain. Just like how the world evolved from legacy applications to new-age cloud technology in these categories, supply chain software is evolving towards Pando."
Iron Pillar had recently closed its $129 million Global Cloud Fund II, the first of its kind, to invest in Cloud/SaaS companies building from India for the world.
About Pando
Pando is a global leader in supply chain technology with its AI-powered, no-code Fulfillment Cloud platform. Pando's Fulfillment Cloud provides manufacturers, retailers, and 3PLs with a single pane of glass to streamline the end-to-end order-to-fulfillment process to improve service levels and reduce carbon footprint and costs. As a partner of choice for Fortune 500 enterprises globally, with a presence across APAC and the US, Pando is recognized as a Technology Pioneer by the World Economic Forum (WEF), and as one of the fastest-growing technology companies by Deloitte.
If you are embarking on digital transformation for your logistics operations, reach out to Pando at https://www.pando.ai.
For media queries, please contact:
Shefali Kotnala | [email protected]