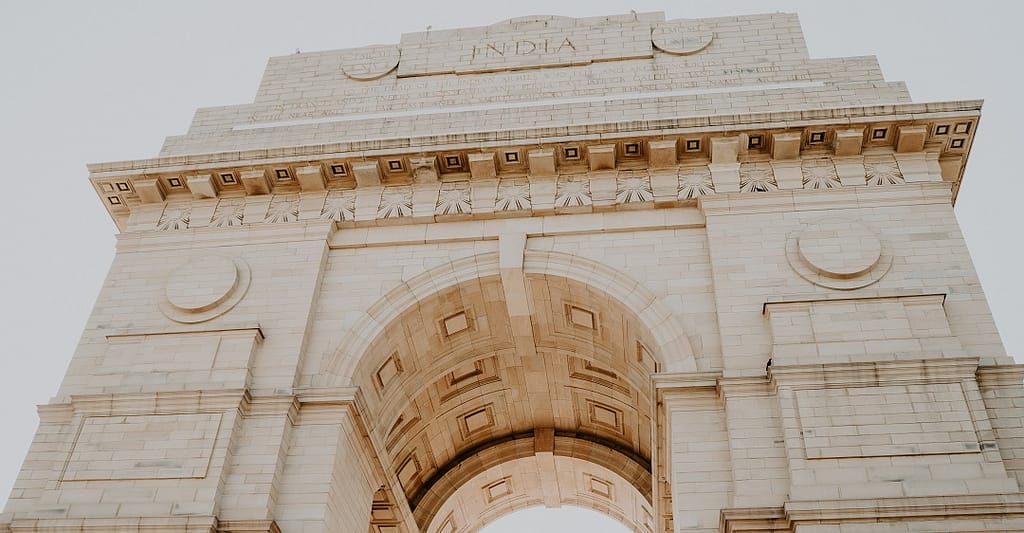 All of us would agree that India is at the cusp of a massive breakout in terms of tech innovation & disruption. We are currently witnessing one of the biggest structural leaps that a country as large as ours can take in our lifetime. But what makes India so ripe for disruption? In last 3 years, I have discussed India opportunity with many people in the ecosystem, and while most people discuss bits & pieces of it, when you put it all together, it just becomes such an incredible story.
This article is an effort to put all those pieces together to narrate the India story and put a number to the opportunity that lies ahead of us in the coming decade. Like any other economic story, our story will also begin with macro tailwinds.
Rare confluence of 3 macro tailwinds
In last 3-4 years, India has witnessed a very rare confluence of three structural macro trends which has provided strong tailwinds for tech start-ups and created unprecedented depth in the markets. These three megatrends are: a) Sharp increase in internet users, b) Rising dominance of millennials in the consumption cohort, and c) Inflection in consumption expenditure.
With the launch of JIO in 2016, the number of internet users rose sharply in India from around 165M users in 2016 to more than 780M users today. This increase in penetration has been much sharper than what most industry experts predicted, and India is now on its way to reach close to a 1B internet users by 2025. What also accompanied internet penetration was a rise in internet speeds and reduction in data costs, which led to India becoming one of the largest consumers of internet data globally. According to Redseer, in 2020, India by far had the cheapest cost of data at $0.09/GB and the highest consumption at 12GB/user/month compared to all other countries globally. In 2020, Indians on average spent around 288 min/day on internet (compared to China at 264 min/day), of which they spent around 55% of time consuming content (a driver of influence) and 45% of time using products & services such as retail, education, financial services, mobility, etc (a driver of transactions).
In addition to the rise of internet as a new medium for everything, the make-up of an Indian consumer also evolved with rising dominance of millennials in decision making. India currently has around 410M millennial consumers with an average age of around 29 years. By 2025, millennials will contribute 65% to the total workforce in India compared to 45% in 2018. In addition, I expect Gen-Z consumers, which have largely grown around Internet, to start penetrating consumption cohorts in a meaningful way over the next decade, thereby changing consumer mix even more. I believe that because of this rapid change in consumer mix which is very comfortable with internet as the new medium for everything, India will continue to see significant disruption in both distribution models (for products & services) and consumption models/patterns. This has created a golden opportunity for Indian entrepreneurs to challenge the incumbents, build products & services for tomorrow's consumer & completely transform the way we live our lives. What makes these macro trends even more powerful is an inflection in the consumption expenditure and a rising purchasing power in the country. In last 5 years, the consumer spending per capita has grown only modestly from around $980 in 2015 to $1,220 in 2020, but as India's GDP continues to grow & inch closer to the $5T economy target, the consumer spending is expected to increase around 2.5x in next 5 years to $2,850 by 2025. Most of the incremental spending will be geared towards discretionary expenses and will either happen online or be influenced by it. Hence, tech companies will not only benefit from the depth in online users but also from depth in online consumption.
The confluence of these three megatrends is quite rare and powerful, and it has provided a unique opportunity to Indian tech entrepreneurs to create fresh consumption patterns & innovative distribution models for tomorrow's consumer who will be internet savvy, will likely have better purchasing power and who is eager to do better.
Rise of seasoned entrepreneurs
More than a decade ago, when Flipkart first started, there was an acute shortage of talent in critical functions like product management, engineering, digital marketing, etc. Most of the entrepreneurs were first-time founders and had little to no experience of working in a large technology company. That made learning curves longer, learning costs higher, scaling slower & outcomes largely unpredictable. But founders rallied on, and in last decade, India ended up becoming the third largest start-up ecosystem globally with more than 2,300 companies raising capital from institutional investors. These companies in turn deployed a lot of capital towards grooming talent and creating next generation of leaders who are entrepreneurial, functional experts, bring deep consumer & industry insights and are wired to blitz-scale. Many of these technology leaders & entrepreneurs are now starting businesses and this has led to the rise of seasoned entrepreneurs with deeper insights, shorter learning curves, India specific playbooks and ability to hyper scale. A bottom-up analysis of start-ups in last 3 years suggests that top 25 big-tech companies in India have produced more than 2,000 entrepreneurs. More than 55% of the start-ups which were founded in last 5 years & raised institutional capital were started by either repeat/seasoned entrepreneurs or senior management of other technology companies. Many start-ups (such as Udaan, Cred, Cars24, Cult.fit, MPL, etc) which have hyper-scaled to become a unicorn in a short period of last 3-4 years were started by seasoned entrepreneurs. These startups, in turn, are investing into & producing even more high-quality talent which will be entrepreneurs of tomorrow, and thereby creating a systemic Talent flywheel in the Indian tech ecosystem.
Deepening of private capital markets
As the depth in entrepreneurial talent has increased, so has depth in investor base. In last 5 years, the total VC investments have grown from $2B per year to $11.5B per year. In last 10 years, the number of investments at Series A and Series B have increased by 300-400%. As per data from Tracxn, in 2019 (pre-Covid year), India saw around 315 Series A investments & around 155 Series B investments, up from 71 & 48 in 2010 respectively. After a covid-led decline in investment activity for a couple of quarters in 2020, the pace of investments has jumped again in 2021 – more than 175 companies have raised their first investment round of at least $1M in the first five months of 2021. The investment activity in last 5 years has benefited deeply from a significant increase in number of investors at both seed/early stage and growth/late stage. On one hand, at early stage, the ecosystem has seen increase in the number of institutional seed investors and super angels (largely tech millionaires who have created significant wealth on the back of rise in liquidity events in last 5 years), who are rapidly capitalizing start-ups at idea stage, helping them build proof of concept (POC) & product market fit (PMF) before they approach Series A investors, thereby creating a large healthy pool of investment opportunities for VCs. On the other hand, at growth stage, the ecosystem is benefiting immensely from the emergence of new domestic investors (first time growth stage funds, PE funds shifting focus to tech, Public market funds evaluating private deals, etc) and increasing participation from global investors (hedge funds, sovereign wealth funds, tech growth funds, large VCs, etc). As a result, the depth in private capital has increased at both early stage and growth/late stage. This has led to start-ups scaling faster, scaling higher and scaling across a much broader spectrum of end markets. The tech innovation & disruption is now truly ubiquitous and there is now enough evidence & depth in markets to build decacorns ($10B+ company) in India at scale.
Exit outlook nearing inflection
Another key aspect of the changing start-up landscape in India is a very visible shift in the exit outlook. For many years, while investors recognized the depth in Indian consumption markets & therefore the opportunity to create large technology companies, the lack of exits and a lackluster IPO market has deterred many from taking large bets in India. However, the exit environment is now visibly changing for the better. While it began with a steady rise in the M&A activity in last 3-4 years driven largely by corporates and tech giants in India, it is now culminating into a strong pipeline of imminent tech IPOs, in both domestic & international markets. In May 2020, the government of India allowed Indian companies to list in 8 international markets without having to do a parallel listing in India. While the exact framework for such listings is still to be announced, there are many large tech companies which have started preparing for international IPOs. In addition, given significant increase in interest from domestic investors, there are many tech companies which are planning to list in India in 2021 and 2022. Learning from US & China, I believe that a successful exit via IPO is the ultimate cog in the start-up ecosystem flywheel as it drives the whole ecosystem towards maturity, scale and capital re-cycle. Healthy IPOs will not only create a scalable exit environment but also incentivize entrepreneurs to focus on building high quality & capital efficient businesses which can list on public markets.
The startup ecosystem is likely to create $900B in value in next 10 years
As per the latest trend line GDP growth estimates from World Bank, India's real GDP growth is likely to stabilize around 6-7% during this decade, thereby increasing the GDP from $2.7T in 2020 to $7.3T in 2030. The basic building blocks for the tech ecosystem are now in place and India is likely to move closer to US and China in terms of impact of technology enabled companies in its growth & total market capitalization. In 2020, the total value of public & private tech companies in US was around 67% of its GDP and in China was around 22% of its GDP. In India, it is only around 7.5% of GDP. As the pace of tech innovation & scale increases, the market capitalization of tech companies (both private & public companies) should at least double to around 15% of GDP in next 10 years. At 15% of 2030 GDP, India will create an additional value of around $900B within the Indian tech companies.
At the core of it, we are seeing a very rare confluence of many structural trends in India, both economic & ecosystem-led. The basic building blocks are in place, and the country is ready to take off. Change is truly likely to be the only constant in the coming decades!